I got the idea to share my older "me made" garments from Amanda, of Sewin' in the Rain.  Although I've been sewing nearly all my life, I have only been sharing my creations for almost a year now on this blog.  It has actually only been about two years now that I've been making clothes to add to my wardrobe that aren't costume or special occasion wear.  I became even more excited about sewing when I started creating my own wardrobe, when I realized that I could make anything I wanted in any fabric and any color that I wanted and not be limited to what was in the stores or in my wallet.  I'm not sure why it took such an epiphany to figure that out!
Anyway….. here goes for my first "wearing yesteryear" post!
Garment created:  January 2012
Pattern used:  Vogue 8631
How often do I wear it?  Every fall/winter since I made it.
I was wearing this dress the other day and my husband took these quick photos on our way out.  He hates taking pictures and being in pictures….. so glad I have my tripod!
As stated before, this dress is Very Easy Vogue 8631, a now our of print pattern.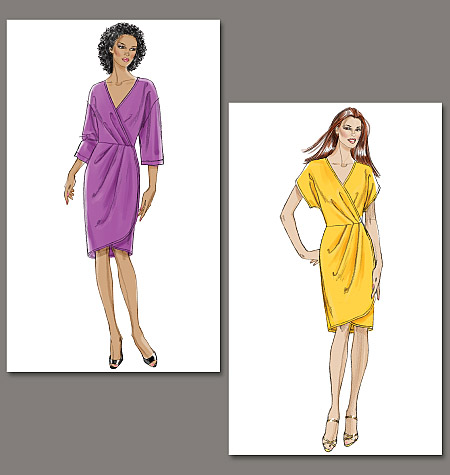 I made this dress out of a black/white poly faux lace print fabric I found at Joann's.  I lined it with a black poly blend lining.  I only wear polyester fabrics when it gets cooler outside as I find them to be pretty hot and not breathable, so I only take this dress out of the closet when the temperature drops.  It's easily made warmer with leggings/tights, a sweater and/or a coat.
I had to do alterations on the bodice to get it fit me right and so as not to be fully exposed.  I always seem to have a problem with wrap dresses and blouses, so I'm not sure why I continue to want to make and wear them!
Happy Sewing!
Dress:  Vogue 8631 in black/white polyester with black poly blend lining, made by me
Cardigan:  Tommy Hilfiger
Boots:  Aerosoles
Necklace:  Origami Owl
Sunglasses:  Burberry