Woohoo! I finished another dress!
This dress was a reader's pick for The Monthly Stitch March Challenge.
The pattern I used is Vogue 1086, an OOP dress pattern designed by Tracy Reese.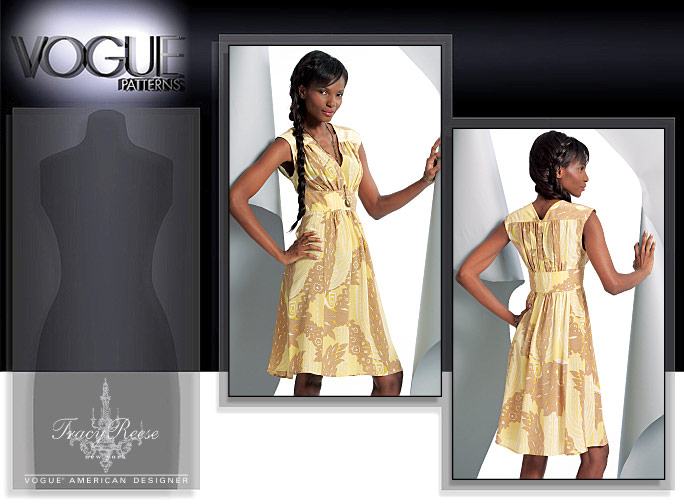 I used a J Crew black/grey/red silk/cotton voile from Fabric Mart which was a Julie's Picks Club selection last year.  It is underlined in the bodice and lined in the skirt with a black cotton batiste.  This pattern doesn't call for lining, but as voile is sheer, I opted to line it.
I really like the way that this dress came together.  It took a little longer to make with couture touches like French seams and bindings.  I opted to follow the directions and do it as the designer suggests.  I like the way that the yoke is finished like a men's shirt with the seams hidden inside.  I opted to underline the bodice for those reasons and it produced a very clean finish inside.  It almost looks like a reversible dress!  And I guess if I had hidden the zipper, it would be!
Please excuse the cat hair, btw.  I have a bad kitty who kept laying on this black fabric while I was making this!!!
This dress is so very comfortable to wear. I wasn't sure about if the v-neck would be too low for me, but it didn't turn out to be.  Also, I made this dress with only 2.5 yards of fabric!!!  Not including the lining of course.  I definitely plan on making this pattern again, especially since I have some other small yardages in my stash that were originally meant for blouses. I think they will look awesome in this pattern!
The kitty apparently likes this dress, as she photobombed yet another photo whilst I wasn't looking.  So yes, of course I posed with her. 🙂
I am so happy with this dress and I'm looking forward to wearing it!
Happy Sewing!!
Dress:  Vogue 1086 in J Crew silk/cotton voile lined/underlined with cotton batiste, made by me
Shoes:  Aerosoles
Earrings:  Gift