You may have noticed that this post's heading is slightly different than usual….  That's right folks, it's time to show you my Sew Dolly Clackett dress!
If you haven't heard, this a contest to celebrate Roisin's (Dolly Clackett) awesome style in celebration of her upcoming nuptials.  As with all things lately, I was a wee bit late on finishing this dress and just barely got it in (sans "modeling") to the flickr group before the deadline.  I had just finished hemming and pressing this dress before I took some photos on my dressform and uploaded them to the group.  Yep, I'm a last-minute gal as of late.  Lots going on at the Hughes' house, I tell ya.
For my mirroring of sweet Roisin, I opted for the Sewaholic Cambie dress.   You may have already seen this if you follow me on Instagram.  I haven't sewn up this pattern since last year and it was nice to get it back on my cutting table.  I always get compliments when I wear one of my Cambies, so it should really be a staple pattern for me, but of course, there are always more patterns that I want to sew up and this one gets left on the wayside.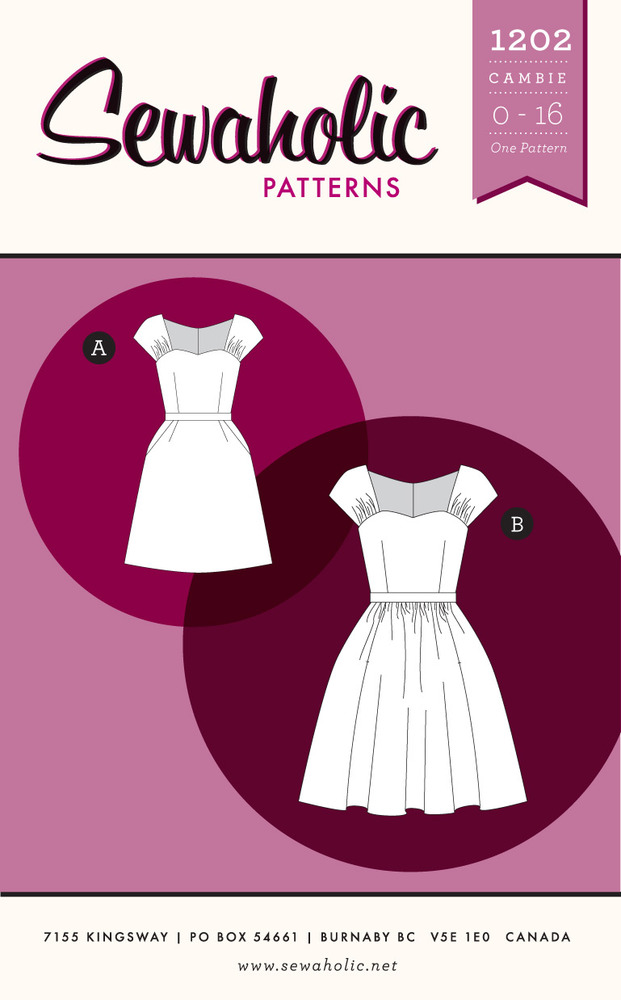 This Cambie is made of a Hawaiian print cotton broadcloth I purchased on a super sale from Fabric Mart last year for about $2/yard.  It has a minty/ivory background and a mid-century print.  I bought loads of this fabric with the intention of making a retro dress with it as well as a shirt for Mr. H.  I was planning on going with a vintage pattern, but this 50/60's inspired pattern works just fine.
This Cambie is lined with an ivory cotton batiste, and as with my other Cambies, it went together like a dream.  Sorry though, for not zipping up the back on my dressform, it ain't easy pulling a zipper for the opposite side when you're showing off the insides….
The Cambie pattern only goes up to a size 16, so I graded up to about a size 22.  I'm a pear-ish shape, so the grading was pretty much straight up.  I do like to adjust the cap sleeves on this dress as I don't like to wear low-cut dresses much, so the bodice is pulled up a little the way I like it.  I considered lengthening the skirt, but the it hits me just fine.
My husband took these photos for me and he pretty much abhors taking photos, so he does it all quick like…. thank God for my tripod.
Sorry that I really didn't care about pattern matching y'all….. I only tend to do so if I'm working with a larger pattern or stripes.  Yes, I'm a lazy seamstress sometimes.  P.S. Dontcha like the shadow of my husband in the above photo?  Sooooo professional, right?  Bear with me, that's the only photo he took of me from the back 🙂
This Cambie's first outing was to a ballgame at the Oakland Coliseum (A's vs Rangers).  I am a Giant's fan, so as not to embarrass my husband (the A's fan) with Giants attire, I rocked my new dress.  I finished this the day before I wore it, which is always nice as it was freshly pressed and ready to roll.  I would have worn some killer heels a la Roisin, but opted for some wearable ones instead, so these Stuart Weitzman 'Barbados" will have to do.
Honestly, I will most definitely be flaunting my ancestry in dresses to come with Polynesian prints.  You can't get much more island girl than that.  Well, you can, but that would be inappropriate for 'Murica.  🙂
Happy Sewing!
Dress:  Sewaholic Cambie in cotton broadcloth made by me
Shoes:  Stuart Weitzman
Earrings:  Bauble Bar
Orchid:  Vee Vee Vintage on Etsy
Excerpt from:
Narrative of the Mutiny on board His Majesty's ship "Bounty" and the subsequent voyage of part of the crew, in the ship's boat, from Tofoa, one of the Friendly Isles to Timor, a Dutch settlement in the West Indies by Lt William Bligh