Hello friends!
I guess there comes a time on every sewing blog when one starts to show off their undergarments and bedclothes.
Apparently this blog is no different.
This is Burda 7109, a retro pattern reminiscent of the 1960's.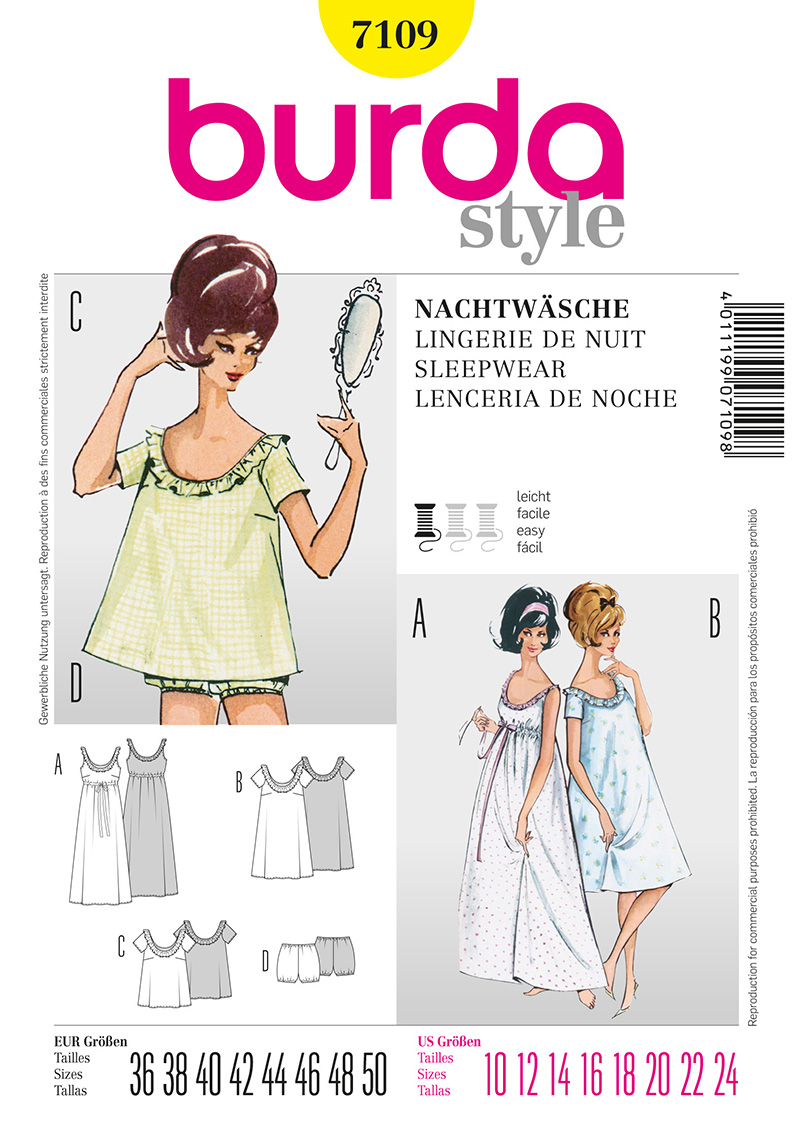 I made View A in a size 22, following the directions, but omitting the frilly bits on the neckline and shortening the gown to the length of View B.  I also opted to use bias tape rather than make my own as the pattern dictates due to the fact I didn't have enough yardage to make the self bias tape.
I used a bluish purple floral cotton lawn that I purchased from Fabric Mart last year.  I had planned on using it to make a nightgown, and now, several months later, I finally got around to it!  I need more summer nightgowns and this fits the bill.
Although I have several Burda patterns and an UFO Burda magazine pattern, this is the first Burda pattern that I've made.  I have no idea why I stayed away from them for so long!
I used up some old bias tape that I had, with a vintage 1960's one from my grandma's stash on the neckline.  Unfortunately, I didn't have enough of that for all of this nightgown.  I was also using some ribbon that I already had for the front, so it doesn't exactly match.
 I'm definitely looking forward to making a couple more nightgowns with this pattern.  I'll be adding some frilly bits to the next one.
And now some Frightful Poses….
I was not planning on modeling this nightgown, but as Jenny (Cashmerette) offered up an informal challenge to mimic these poses, I took up the challenge and here we are with my frightful renditions…
I am very bad at this, I know…. It is not as easy as it looks, especially when you're wearing a nightgown and trying to pose on a couch in your sewing room…
I definitely recommend wearing pants or leggings if you are going to attempt this dare.
I call this last one "passed out pose".
Obviously, I can't do these poses as well as Lauren (Rosie Wednesday).  Care to take a shot?  It can't be any worse than me! 🙂
Photos other than my own are from Tabrah Krajnak.