Hey there, friends!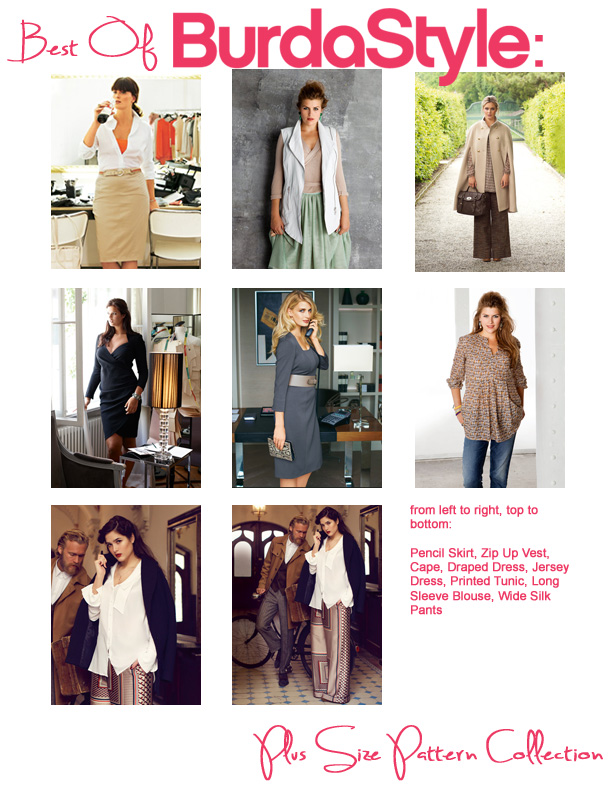 This dress is truly a different style for me.  It has kind of a 1970's vibe and felt a bit strange to put on as I'm not used to a loose-fitting garment.  I thought it would be good for me to step out of my little box and make something with a different silhouette than I'm used to.  This dress is super comfortable and I love the way the fabric drapes.
Burda kindly offered the editors of the Curvy Sewing Collective free patterns  for this blog tour.  The PDF pattern I chose out of the "Best of BurdaStyle:  Plus Size Collection" was the "Printed Tunic" (01/2013 #133A) pattern.  After reading through the details of that pattern, I found that there was a dress version — the "Clean-Cut Dress" (01/2013 #133B) and decided that that would be something fun and different to make.  This pattern is also the same as BurdaStyle 6972, a printed paper pattern.  The tunic is cut out from the same dress pattern, just a shorter "skirt".
This dress reminds me of a poet blouse and is loose-fitting and super comfy.  The fabric I used is Joel Dewberry Bungalow Swallow Study teal rayon challis that I purchased from Fabric.com.  It's lined with a white cotton voile.
The PDF patterns on Burda's website seem to go up only to a 52, whereas the paper patterns go up to a size 60.  I cut a 52 in this dress, grading out to a 54 on the waist and hips.
This pattern is marked "Intermediate", but I think that a beginner/advanced beginner could definitely sew this up.  The instructions are good, although Burda does not hold your hand like Colette Patterns do, so if you're not familiar with some terms, you may have to look them up.  As you can see from the line drawing, there are pleats in the front and gathers in the back.  There are two things that I did different whilst making this dress.  For one, I didn't use binding on the neckline as suggested, and instead lined the bodice by sewing the two pieces right sides together and then turning out.  The skirt is also lined, although I did not feel the need to line the sleeves.  I also did not put the elastic in the cuffs and left the sleeves loose.  There are no fasteners in this dress, so that makes it a bit quicker to sew up, but as this isn't a stretchy knit dress, it obviously needs to be loose to put it on.
It was about 88 when I took these photos and I was super hot.  My plan for this dress is a cool weather plan, but although autumn has arrived, the cool weather hasn't!  My vision for this dress is to wear it with boots and tights, but ballet flats will have to do for now as I didn't plan on overheating for the sake of fashion. 🙂
I really like the idea of a loose-fitting dress, but I find that I need a bit of waist definition or I look larger than I am.  I added the belt to give me that, but it also pulls up on the side on the sides of the skirt, which is okay for me as it kinda of this dress a shirtdress vibe.
Amazingly, I had earrings that PERFECTLY match this fabric!  FTW!  My ballet flats are also a gold shimmery metallic which you can't tell from the photos.  I think they're my new neutral basic flat (and also very, very comfortable!).
I've been a fan of Burda's pattern for a while now and have been collecting their paper patterns when they go on sale at Joann's.  For a year and a half or so I've been buying the UK version of BurdaStyle magazine and since the US version came out (which is different from the European one), I've been purchasing that as well.  I love how the Burda patterns are stylish with gorgeous plus-size models and each collection has a different theme.  So far, I've cut out and partially sewn one blouse from the magazine, which was my first attempt at tracing a magazine pattern last year.  I haven't finished that blouse yet, but it looks like it needs to make it's way out of the UFO bin.  I like that some of the magazine patterns can be purchased online in the PDF version so you don't have to trace them out.  I like it even more when I can get a paper version!  I'm actually working on a Burda paper pattern version of a cocktail dress right now that's nearly done and I just love the pattern and can't wait to share it with you!
Ready to see some more?
Here are all the stops for the BurdaStyle Plus Size Blog Tour:
September 29th — Jenny at Cashmerette — the Jersey Dress
October 1st — Tanya at Mrs. Hughes – the Printed Tunic
October 2nd — Laurence at Quirky Pretty Cute — the Loose Jacket
October 6th — Mary at Idle Fancy — the Faux Wrap Dress
October 7th — Mary at Young, Broke, and Fabulous – the Draped Dress
October 8th — Sophie Lee at Two Random Words — the Cape
October 9th — T at U & Mii — Contrast V Neck Dress
Happy Sewing!
Dress:  BurdaStyle 6972 (01/2013 #133B) in Joel Dewberry Bungalow rayon challis, made by me
Shoes:  Aerosoles
Belt:  Macy's
Earrings:  Bauble Bar
Bracelet:  Berkeley flea market
Sunglasses:  D&G