I had been looking for ways to decorate my sewing room when I came across this wreath on Pinterest.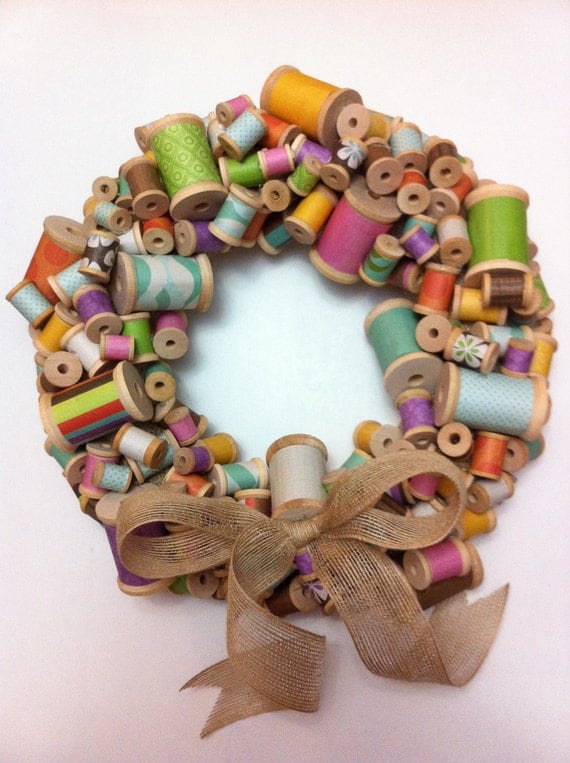 I thought this was a perfect sewing room decoration and was like:  "Hey, I can make that myself!"  This particular thread wreath is made with ribbon wrapped around wooden spools.  It makes it look much fuller and more colorful than mine is.  Mine is kind of more homespun looking as I used actual vintage thread spools.  These all came from my grandma and I probably was never going to use them, but I didn't want to exactly ruin them either, if I ever needed thread due to a cataclysmic event or something (yes, I watch too many post-apocalyptic movies), I could just remove the spools and use them.  So I actually sewed my thread spools on rather than gluing them on.  This was much more time consuming, but at least I can always use the thread if I need them!
When I started thinking about this project, I wasn't sure what I wanted to use as the base for my wreath.  I had made previous wreaths with styrofoam bases and they don't last long as the styrofoam breaks eventually.  I happened to be talking with my MIL while in Joann's one day and a guy cutting fabric overheard us talking about the styrofoam wreath bases and said that his friend makes them and wraps them with duct tape.  I figured that might actually work and decided to try that!
Vintage Thread Spool Wreath
Supplies
Styrofoam thread base
Duct Tape
Fabric scraps (if you are sewing the spools on, otherwise, use a glue gun)
Thread spools (and ribbon if you have empty ones and/or want to cover them with ribbon)
Liquid Stitch (if you're attaching fabric scraps to the base)
Thread (if you're using my method)
Glue Gun (if you aren't sewing the spools on)
Ribbon for bow
First off, I wrapped the styrofoam wreath base with duct tape.  You don't need to use a colored duct tape, unless of course you want to see it.  I just happened to have this purple tape.
If you want to hot glue your spools directly on to your base, you don't need to do the next step.  As I sewed mine on, I needed to have something to sew them to, so I used scrap pieces of muslin and wrapped and affixed  them with Liquid Stitch on to my wreath base until it covered it.
If you went with the fabric strip cover route and used Liquid Stitch, you're probably going to have to wait until the glue dries.  The next part is assembling your spools.
If you don't have any of these spools, don't worry!  You can buy them on etsy or find them at flea markets and thrift stores.  I bought some more off etsy and my MIL gave me those empty spools you see in front, in case I wanted to wrap any with ribbon.
Next, start sewing (or gluing) them on!  I put larger spools in and then filled up with smaller ones and kept sewing them on until I was happy with how it looked.  It took me a few weeks to make this as I worked on it off and on and also had to wait for the spools that I ordered to arrive.  I think I might make one with the ribbon covered spools at some point.  It would be a smaller one that I'd hang on a door.  This one is pretty heavy!
My wreath just hangs on a big nail in the wall, but if you wanted to make a hanger for yours, you would have tied a piece of ribbon/cording/string around the the top of the base and made a loop.  Or you can tie floral wire (or whatever wire you have) around and make a hanging loop.  You would have needed to do this before you started sewing or gluing your spools on.
The last step is to adorn it with a bow.  The inspiration photo has a burlap bow.  I used this lace ribbon I found at Michaels.  You could use anything or go bare.  And voila!  You have a turned some old "junk" into something to decorate your sewing space!
Happy Creating!